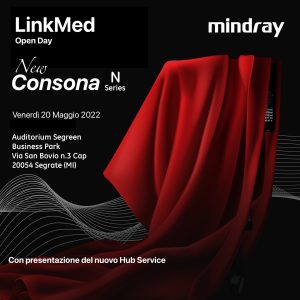 The wait is over!
It is with great satisfaction that we announce the arrival of Mindray's new Consona platform, which we will have the pleasure of presenting on Friday, May 20, at the auditorium of the Segreen Business Park in Segrate, Via San Bovio 3.
The invitation is addressed to practitioners, physicians, clinical engineers, at 4:30 pm.
The program will include an introduction of the Consona system with in-depth technology and a clinical experience presented by Prof. Fabrizio Calliada.
This will be followed by a brief presentation of the after-sales services offered by our new #Service HUB for customer support.
At the close of the proceedings it will be our pleasure to offer an aperitif to all guests in attendance.